I was last week in a Skype for business broadcast meeting. Cool stuff i must say and i wanted it to check it out in my tenant subscription. In this blog post i am going to explain step by step how to enable Skype broadcast.
When you go to https://broadcast.skype.com/ and log in you get the web scheduler. But when creating a new meeting you might get this error:

You need to enable external access for your domain in the O365 Admin –> Skype for Business Portal. As i enabled all external communications with external organizations my settings look like this: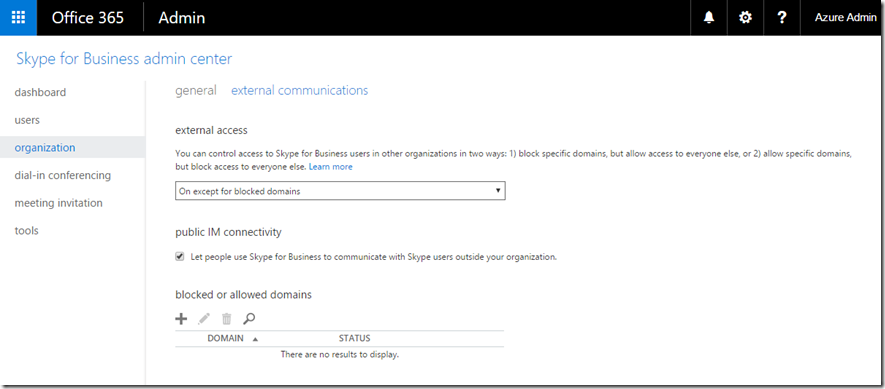 Otherwise you have to add these domains to the allow list:
Add these domains:
noammeetings.lync.com
emeameetings.lync.com
apacmeetings.lync.com
resources.lync.com
Now install the Skype for Business Powershell MSI to enable Broadcast. Install the MSI by double click and choose next next finished.
Then open an ISE and add these line of code:
#Enter O365 admin credentials and connect to O365 - S4B

$O365S4BSession

=

New-CsOnlineSession

-Credential

$Cred

Import-PSSession

$O365S4BSession

Get-CsBroadcastMeetingConfiguration

#To enable S4B Broadcast:

Set

-CsBroadcastMeetingConfiguration

–

EnableBroadcastMeeting

$true

#To disbable S4B Broadcast:

#Set-CsBroadcastMeetingConfiguration –EnableBroadcastMeeting $false

#Disconnect and remove the session

Remove-PSSession

$O365S4BSession
When you run the the Get-CsBroadcastMeetingConfiguration the status is probably set to false:

Now run the line Set-CsBroadcastMeetingConfiguration –EnableBroadcastMeeting $true to enable broadcast and verify it again by Get-CsBroadcastMeetingConfiguration cmdlet:

It might take up to an hour for the change to be effective.
Then go back to the portal to enable a broadcast meeting and choose new meeting: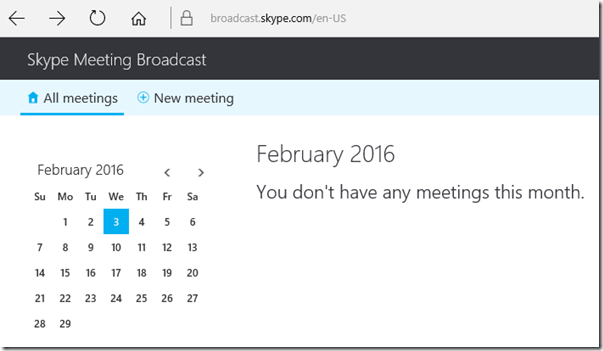 Enter meeting details and happy broadcasting 🙂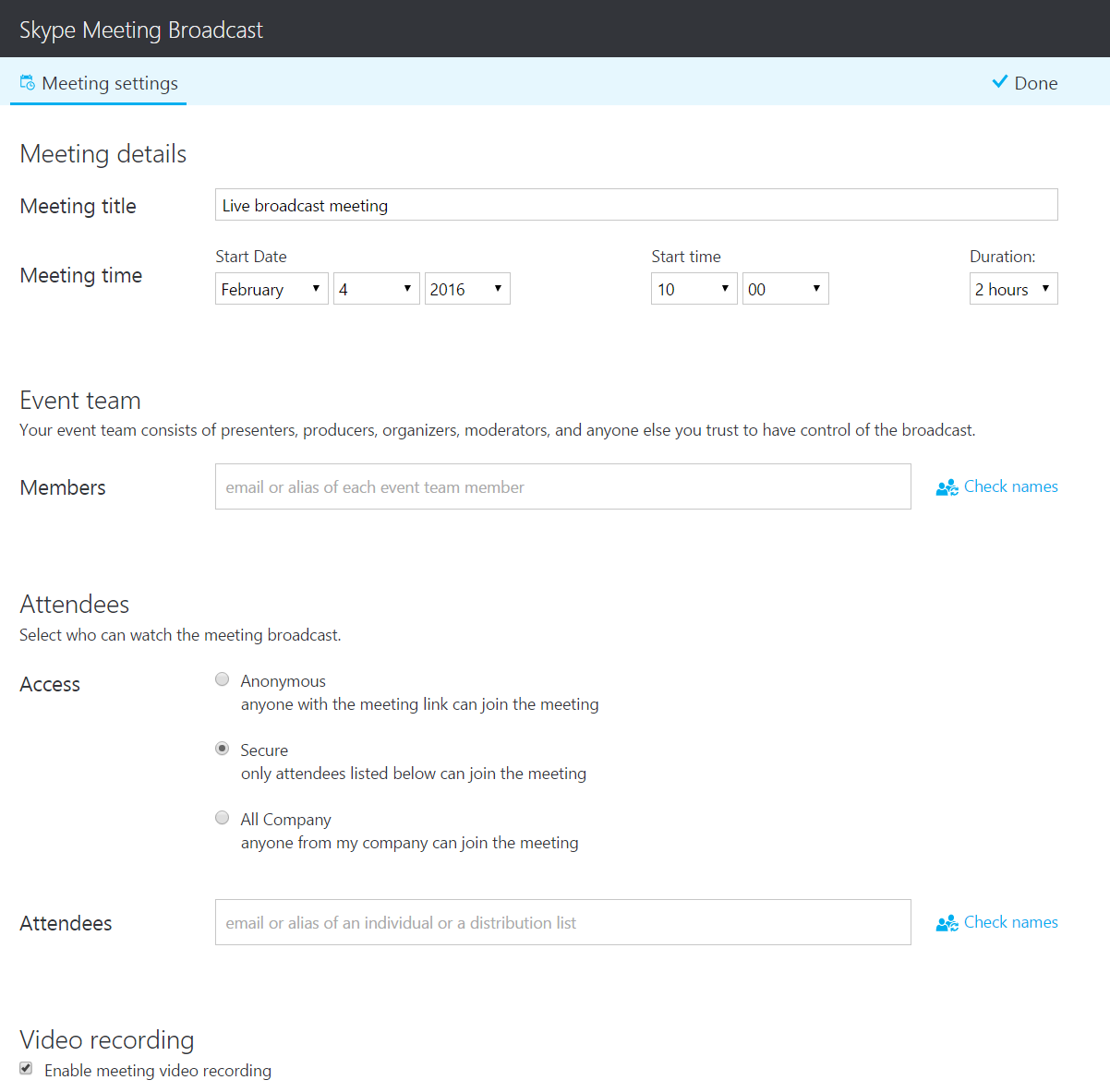 When you enter the call you have the option to add content and start broadcasting: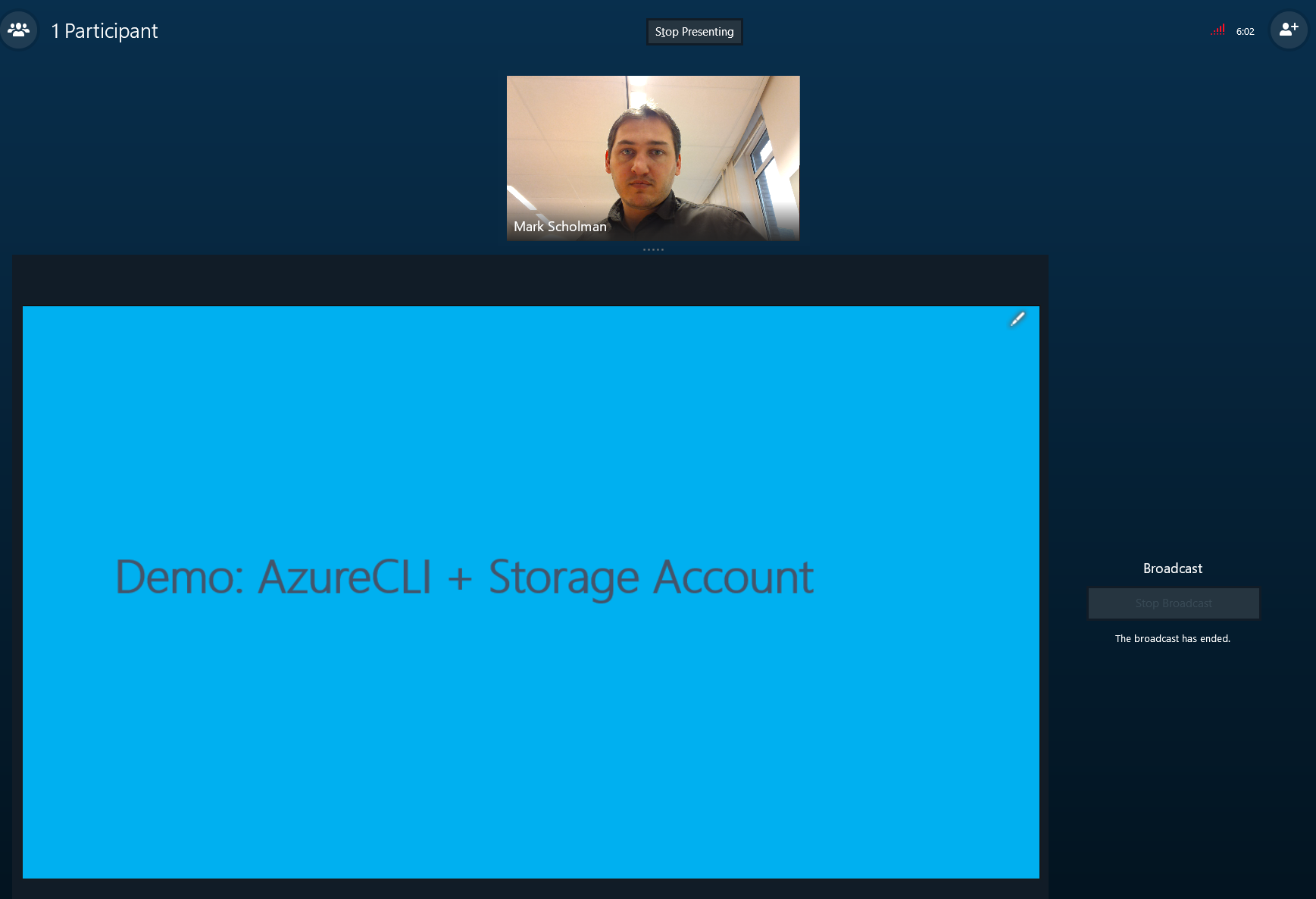 When the meeting has ended you have the option to download the video and the report containing the participant information from that meeting: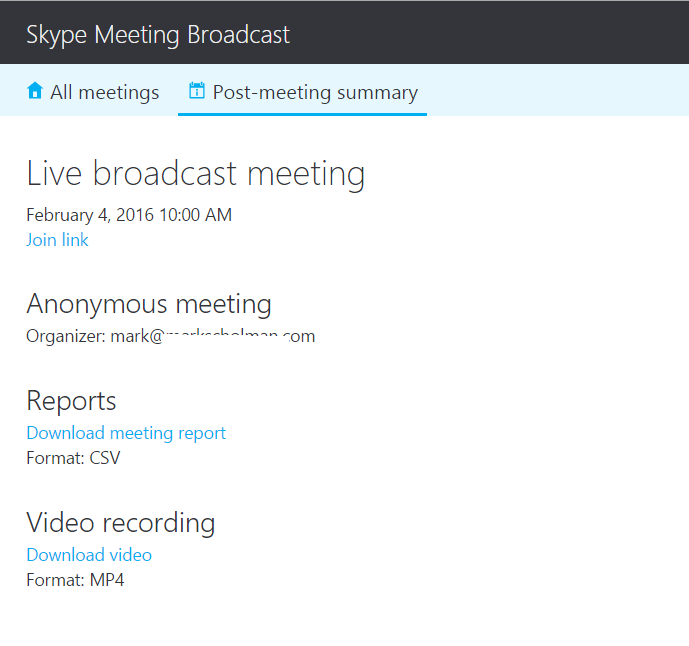 Mark Scholman